If you read our last blog post, you may have noticed that we talked about both STAHLS' and Transfer Express. For those new to STAHLS', you may be wondering what the difference between them is. While STAHLS' and Transfer Express are sister companies and carry some of the same products, each company specializes in its own sector of heat printing, so we can service apparel decorators in all different markets. Check out the overview of each product offering below so you can understand when you should order from STAHLS' vs. Transfer Express.

From heat transfer vinyl to emblems, patches, and appliqué, STAHLS' offers a wide variety of products and services for many types of apparel decorators. Heat printer hobbyists and large fulfillment centers alike find what they need to get their job done with STAHLS'.
CAD-CUT® Materials and Transfers
One of the main product offerings, and what got STAHLS' started, is CAD-CUT® materials and transfers. Whether you order by the roll or have us cut it for you, STAHLS' has you covered. Choose from a wide variety of heat transfer vinyl designed for all types of apparel and garments. There are so many ways to order CAD-CUT® materials! Order custom cut designs, pre-cut letters and numbers, pre-spaced numbers and text, Any Word Any Way®, or by the yard.
CAD-CUT® heat transfer vinyl is the go-to for many apparel decorators. There's an option for every market, including durable, abrasion resistant materials for sports and lightweight, stretchy HTV for performance wear. There are also a variety of special effect finishes and textures to support a wide array of projects.
CAD-PRINTZ®
Another popular STAHLS' custom service option are CAD-PRINTZ® full color transfers. CAD-PRINTZ® is the full color choice for adhering to a variety of materials with special effect finishes or textures. CAD-PRINTZ® non-apparel transfers allow you to reach different markets by offering stickers, decals, wall signs, banners, and more! We also offer blank printable vinyl for decorators with a print/cut system looking to print in-house.
Emblems & Patches
Emblems & Patches have quickly become one of the most popular decorating methods available through STAHLS'. With a variety of textures, finishes, and styles, you can bring your logo to life with a premium, dimensional finish.
Twill & Appliqué
In addition to HTV, STAHLS' also offers twill appliqué for embroiderers. Order by the roll or let us cut it for you, CAD-CUT® twill materials have a heat-applied adhesive for sealing the material after sewing.
Don't have an embroidery machine? Order your logo in SimStitch® to get the embroidered look with only a heat press. We also offer CAD-Printz® in Perma- and Texture Twill for full color designs that can be applied with just a heat press or sewn for a finished embroidered look.
UltraColor® MAX
The latest STAHLS' product category is UltraColor® MAX. Using direct-to-film technology, UltraColor® MAX can print full color designs onto a film carrier, without the need for an outline. UltraColor® MAX has quickly become a fan favorite STAHLS' product due to its ability to print fine detail not always possible with vinyl, and for the quick turnaround and no order minimum!

While STAHLS' has made its niche in the HTV, twill, and patches world, Transfer Express specializes in screen printed and direct to film transfers. Transfer Express also has the Easy View® online designer, an intuitive, easy to use design tool for making custom designs that can be ordered directly from Transfer Express.
Screen Printed Transfers
Screen Printed transfers are a specialty of Transfer Express and give apparel decorators the ability to offer screen printing without the need for all the equipment – all you need is a heat press! Using plastisol ink, designs are screen printed onto a carrier that can be heat applied to fabric. Screen printed transfers from Transfer Express come in a variety of finishes based on your project's needs. Screen printed transfers are also available in numbers, pre-spaced text, or as a custom logo.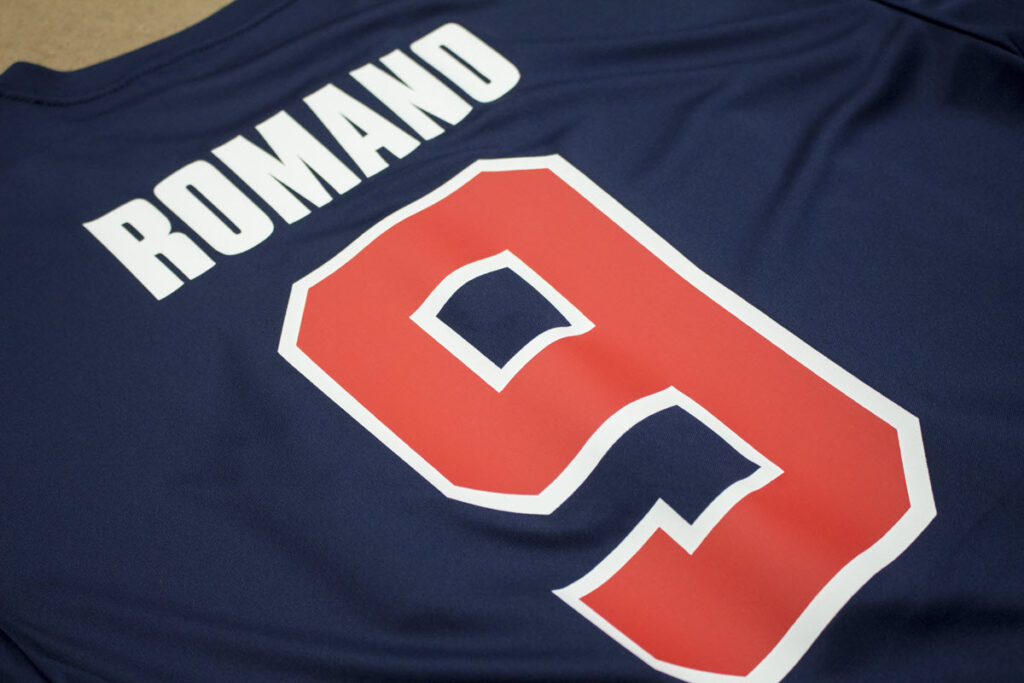 UltraColor® DTF Transfers
In addition to the ultra-popular UltraColor® MAX, Transfer Express has a range of UltraColor® options to meet a variety of project needs. With UltraColor® Stretch, you can print on spandex and nylon, or order UltraColor® with blocker for garments that may experience dye migration.
Easy View® Online Designer
Ordering custom designs is made simple with Easy View® Online Designer. With a variety of fonts, clip art, and templates to choose from, you don't need to be a graphic designer to create high quality artwork. Order the 2023 Idea Book to show your customers all that's possible with Transfer Express!
---