Without a doubt, the Hotronix® 360 IQ® Hat Heat Press is one of our most innovative pieces of equipment to hit the market. Like the name suggests, "360" implies decoration anywhere on/around the hat. So why only stick to the front panels of hats?
Trying new decoration placements can be intimidating. Certain questions may flood your head. What if it doesn't heat apply correctly? What if I ruin a hat? You're in luck! In the video below, Josh plays the role of a student — just like you. He tests out the heat application of one of our FlexStyle® emblems demoing how to decorate mesh hats. The outcome? Success!
---
Mesh Hat Application
2. Flip the Sweat Band Out
3. Adjust to Ensure Flay Printing Area
6. Follow Application Instructions & Apply!
7. Remove Hat from Press and Let Cool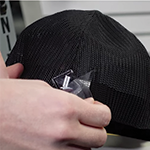 8. Peel Away Carrier & Viola!
So there you have it! Another successful application using the 360 IQ. You'll notice that zero scorching or adhesive was visible on the hat after the application process. One thing Josh mentioned in the video is important to reiterate. While testing fabrics that are prone to melting, like mesh, use the quickest amount of time possible on the application instructions. This particular product had a range of 20–30 seconds, so 20 seconds was used to prevent any sort of melting.
Check Out Our Library of Videos
Are you a fellow hat lover and can't get enough of the 360 IQ Hat press? You're in luck! Our education team has created various playlists to make watching our content seamless. We currently have 30 curated playlists catered to different topics on our channel. To check out the other 28 hat specific videos, make sure you head over to our YouTube channel and browse through all of our how to heat press hats playlist. From there, you can gain some new tips, tricks, and ideas when decorating your next hat using the 360 IQ.
---