ICYMI, STAHLS' launched a new series—21 Heat Printing Trends to Sell in 2021—on January 1st. The excitement and feedback we've received from our customers has been amazing! And that's what these 21 looks are all about: helping apparel decorators get excited and succeed in their business, whether you're just getting started or looking to expand.
Each weekday in January, we're showing you how to decorate the hottest apparel and accessories, provide marketing assets to help you sell, and give you the photos and video clips for each trend. Log in to your STAHLS' account, or register, to grab everything you need. We want you to steal these looks! Use them on your social media channels, in an email, or on your website and show your customers what you can do for them and watch your business grow.
If you missed our post on the Fitness and Sports market, or Fashion and Safety, make sure to watch the videos for great business tips! We're wrapping up our last look for the Safety market and heading right in to Construction and Corporate looks.
---
Safety Market
Look #12 – Custom Wall & Floor Decals
Keeping customers and employees safe goes beyond hi-vis apparel and accessories. Make your space safe and compliant by adding wall graphics with custom messaging throughout your business. You can upload your own artwork right on our website and your designs arrive with a protective masking and carrier for easy placement.
What We Used:
---
Construction Market
In an industry like construction, you need products that are tough and can withstand everyday wear and tear. Decorate outerwear and hats with durable and safety-certified materials that'll keep workers safe, visible, and stylish.
Look #13 – Full Color Patches
Tough, rugged, and warm defines this look. Show potential clients full color patches paired with popular pullovers and headwear. These sublimated twill patches can be applied with only a heat press and provide a durable, high-end look even after multiple washes.
What We Used: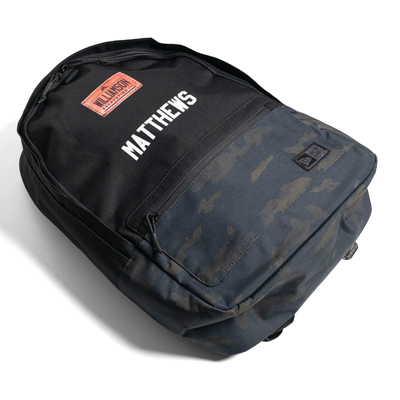 Look #14 – Personalized Backpack
Create a look that carries a lot of weight. Help customers complete their workwear offering with personalized bags for each of their employees.
What We Used:
Look #15 – Personalized Outerwear
Outerwear is highly profitable and easy to brand with the right materials. Depending on where you live, this look can be offered all year round to help bundle up the sales. Check out this video where Josh adds a reflective logo to a hard-to-decorate hooded jacket.
What We Used:
Material: CAD-CUT® 3M™ Scotchlite™ 5807 HTV
Garment: DRI DUCK® Jacket
Equipment: Hotronix Auto Clam & Heat Press Caddie Stand
Accessories: 11″ x 15″ Quick Change Platen & Cover Sheet
---
Corporate Gifts
Employees are working hard around the clock and it's important to show appreciation. Help your customers say more than "thank you" with personalized apparel, headwear, and accessories using today's most innovative materials.
Look #16 – Branded Apparel
Nothing boosts employee or customer morale like branded apparel. Spur new ideas with high-value looks that show appreciation. Embroidered Patches add a high-end look and can be heat applied in just one minute. Follow these simple steps to take your custom decorated apparel to the next level.
What We Used:
We hope you love these 5 looks from our 21 Heating Printing Trends to Sell in 2021 series. Stay tuned for next week's markets and looks to steal! In the meantime, make sure you're subscribed to our YouTube channel to see the latest videos and sign up for our blog so you don't miss a post!
---
STAHLS' 2021 Product Catalog
You can see all these innovative materials in our recently released STAHLS' 2021 Product Catalog! If you didn't receive a physical copy, you can reference our digital version to see the same information. You'll see all our new HTV, printable materials, equipment, and exciting effects added to our Pre-Spaced lineup. We hope you check it out and are inspired to create something amazing this new year!