As our 21 Heat Printing Trends to Sell in 2021 series comes to an end, we want to say THANK YOU to everyone who tuned in and stole these looks! We hope our team helped spark new ideas for you and your business and gave you new strategies to help you succeed this year.
To steal these looks and get the marketing assets to help you sell, log in to your STAHLS' account, or register, and grab everything you need. Use them on your social media channels, in an email, or on your website and show your customers what you can do for them and watch your business grow.
If you missed our posts on the Fitness and Sports market, Fashion and Safety, and the Construction market, make sure to watch the videos for great business tips! We're wrapping up Corporate Gifts and sharing the top looks to recreate for Streetwear.
---
Corporate Gifts
Help your customers say more than "thank you" to their employees with personalized headwear using today's most innovative materials and finishes.
Look #17 – Corporate Branded Hat
This snapback cap with a genuine leather patch is perfect for anyone. Caps are quick to decorate, fun to give, and your customers won't have to manage a variety of sizes.
What We Used:
Look #18 – Corporate Branded Polo Shirt
Dimensional logos are the premier product for brand recognition. This decorated long sleeve performance polo provides a high-end, unique look that's sure to be an instant favorite.
What We Used:
---
Streetwear Market
Set your business apart from the rest and offer your customers trendy looks. Online shopping is at an all-time high and people are looking for unique items they can't find at their local retailer. Get creative with placements and unique finishes not possible with other decorating methods.
Look #19 – Streetwear Hoodie
Fleece was one of the top trends in 2020 and continues to grow. Showcase this mixed-media HTV design on sponge fleece for a cozy combo everyone will love.
What We Used: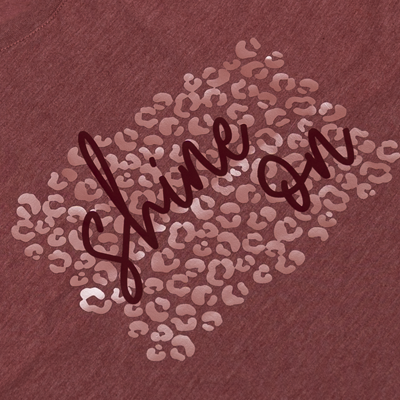 Look #20 – Streetwear Cropped Tank
This super lightweight crop top is such a trendy piece and perfect for layering. Show off this mauve blank with popular animal print and a complementary color sure to stand out!
What We Used:
Look #21 – Concert T-Shirt
Basic text in a script font is an elevated look that's easy to execute on a T-shirt. Using a soft, textured HTV takes your garment from basic to bold and adds a unique effect you'll find in any retail store.
What We Used:
We hope you loved all 21 looks in our 21 Heat Printing Trends to Sell in 2021 series. Our team worked so hard researching and creating these garments and accessories to help your business grow and thrive. Head over to your STAHLS' account to steal all the garments, accessories, materials, and marketing assets you need to jumpstart your business.
We encourage you to source these products and start getting creative with new looks of your own. We hope you're inspired to start decorating for new markets and look forward to hearing all about your success. We'd love to see your creations during our Saturday morning "Show & Tell" on STAHLS' Facebook where you show us what you've made and the products you used.