In today's digital age, it's easy to get lost in the shuffle if your business isn't staying relevant. It's so important to find ways to connect with your customers so they can easily interact with and order from you. Online selling is a great way to boost your sales and extend your client reach, and we've got the perfect solution for you to get started.
Spirit Sale™ is an e-commerce platform for apparel decorators that will help simplify ordering, streamline production, and increase sales. This powerful tool allows you to build unlimited stores that are fully branded and personalized to your customers. You can track sales from start to finish, with every detail quickly accessible, from payment and fulfilment to order status, invoices, and shipping notices.
Spirit Sale™ will keep your business trending. You can create custom stores for any market – sports teams, school & clubs, corporate branding, fundraising events, and so much more! Your day-to-day operations will be a breeze, and your customers will have a designated site where they can easily order custom goods catered to them.
---
Spirit™ Sale Success
Hear how heat printing businesses are selling online and profiting with Spirit Sale™. Learn how you can too! With fast store setup and specific branding, your business can start taking orders for any client in minutes.
As a small company myself, I am not sure I could have justified the cost a year ago, and yet having done the manual set-up myself on Shopify for a few years and then not having the reports I needed, I think of the time I wasted doing all of that. Taking the leap and investing in you and your company pays off!!! My first store paid for the cost of the store! If you have any groups/clubs you already doing stores for – it will be worth it!!!

Becky M.
Set aside $60 a month and it pays for itself. I get it, though things were slow this spring, I needed to be able to serve my customers, so I had to renew and it has already paid for itself.

Sara H.
---
Spirit Sale™ Highlights
One Flat Rate
Unlimited Stores
Custom Domains
Integrated with Popular Apparel Catalogs
Bulk Report Generation (POs, Work Orders, Packing Slips, etc.)
Detailed Invoices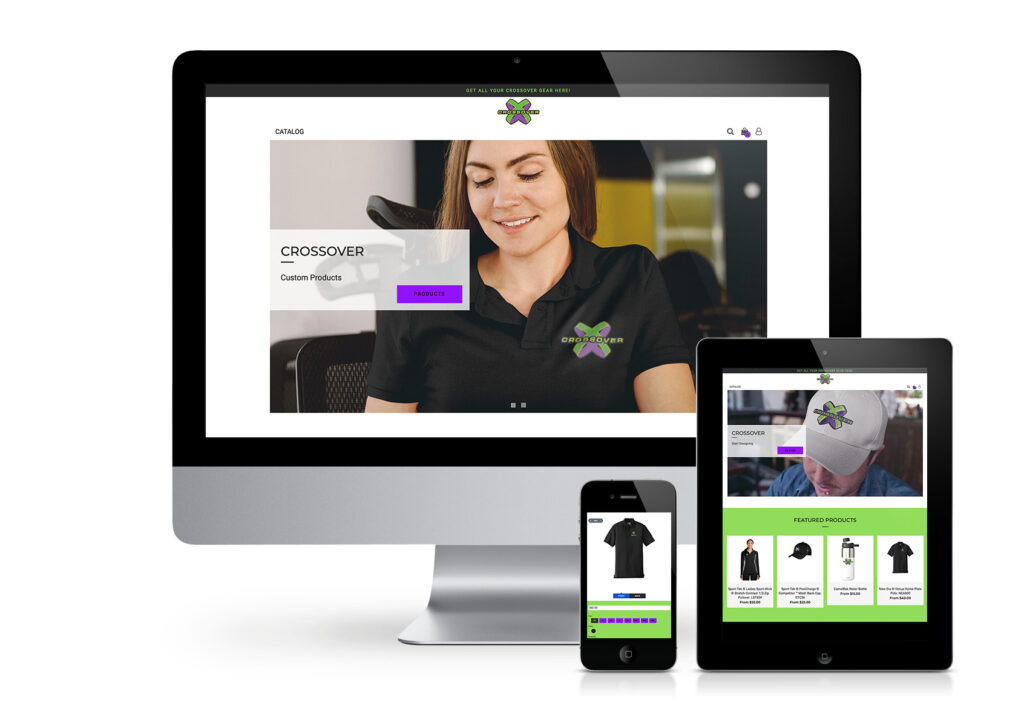 Top 2023 Software Enhancements
We are committed to offering the leading e-commerce platform for heat printing success. This year, we've made some significant improvements to the software and are continually developing ways to make Spirit Sale™ even more effective.
Custom Domain Masking
Download Bulk Production Reports directly from Ordering Page
Ability to Customize Downloads on the Production Page
Increased Maximum Variants from 100 to 200
---
NO Hidden Cost
When you research other eCommerce platform options, you'll often find additional fees hidden in the fine print. With Spirit Sale™, there's no devil in the details – create unlimited stores, design garments, and generate profit at one flat rate. You can sell without interference or charge per sale, so you're really in complete control of every cent of every transaction for your business. You drive the sales; you keep the profits. It's that simple.
Business Management Tools
Looking for the status of an order? Can't find that invoice? Is your desk cluttered with spreadsheets and order forms? Online selling makes it all so easy! Spirit Sale™ features one simple dashboard where you can track orders, manage production, and organize revenue. Keep your business running smoothly with upgraded management tools readily available within the software.
Virtual Demo & Hands-On Education
There are so many ways to create opportunities for your business to profit with Spirit Sale™. Use the robust design center to create real-time proofs and mockups for your customers, offer quick pricing quotes and the most popular blank apparel options, with no installation or additional setup fees.
Ready to learn more? See how Spirit™ Sale can impact your business and preview the software in live action. Schedule an online demo with a STAHLS' expert to view the specifics and ask any questions.
---
More Spirit Sale™ Success
Tune into the Heat Press for Profit LIVE Podcast available on your favorite streaming media platform. Watch Episode #13: Success Stories with STAHLS' Spirit Sale™ Online Stores below as Kelly talks with Taz Garnell from Egads Screen Printing to learn how Spirit Sale™ has increase their average order, organized their production process, increased their market opportunities, and the types of customers they serve with the platform.