In our post, "Sublimated Printing with a Heat Press," you'll discover what sublimation printing is and the benefits of using sublimation transfers to decorate garments with a heat press machine. Since the process of sublimation involves special ink fusing to the item it's being applied to, it's important to understand that not all blanks are created the same.
Sublimation printing cannot be done on all types of fabrics. For example, you cannot do sublimation on 100% cotton. For the best results, 100% polyester garments are suggested for the best results. For hard goods, such as ceramic, tiles, metals, etc., a special coating is needed so that sublimation inks can bond to the item. These sublimation blanks must be purchased with the coating already on them because this coating is not something you could apply at home after the purchasing the items.
But where do you find the blanks for sublimation printing? We're here to help! We've heat printed some items with sublimation transfer designs providing the source information for each one. Not only will you know where to go, but hopefully you'll get a little inspired.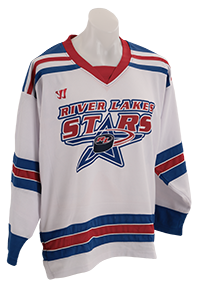 Hockey jerseys are a great option for sublimation transfers since they are commonly 100% polyester. This jersey is a great example of how you can use the colors within the jersey to create a stand-out design.
Source: HockeyMonkey.com
Item#: warrior-jsy-KH130-nyr
Link: https://www.hockeymonkey.com/gamewear/uncrested-jerseys/adult-league-jerseys/warrior-hockey-jersey-kh130-nyr.html
Athleisure is another great option for sublimation transfers since they too are typically 100% polyester. This 1/4-zip pullover shows how unique placement can be a real crowd-pleaser.
Source: SanMar.com
Item#: LST850
Link: https://www.sanmar.com/p/4047_White
In the warmer months, baseball and softball is in full swing and players need to be able to withstand the heat. This makes polyester an ideal an choice for team uniforms, which also makes it an ideal choice for sublimation printing.
Source: EpicSports.com
Item #: E6943
Link: https://baseball.epicsports.com/prod/6943/index.html

And what item is a must-have in baseball/softball? Why the hat, of course! You don't have to limit yourself to just t-shirts or jerseys with sublimation printing.
Source: EpicSports.com
Item #: E20347
Link: https://soccer.epicsports.com/prod/20347/index.html
Speaking of not limiting yourself to t-shirts and uniforms – flip flops certainly do just that! A simple monogram, coupled with a fun pattern, brings personalization to another level.
Source: Coastal Business
Item #: 35472EA
Link: https://www.coastalbusiness.com/catalog/product/view/id/48421/s/light-gray-sublimation-flip-flop-shoes-gray-flip-c/
Here are some other great resources for sublimation products:
Now that you have these resources at your fingertips, there's no limit to what you can create with sublimation transfers.