Heat-Transfer Material + T-Shirt = TLA (That's True Love Always, for those who aren't children of the 80's…)
By Elaine Sables, Marketing Director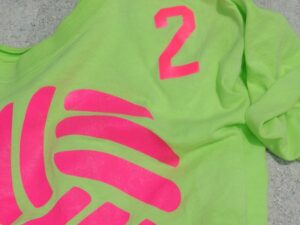 I just returned from recharging my batteries in Florida. Of all the fashions I saw on the beach, this garment popped out at me as a classic heat printing example.
Always a fanatic about heat printing, I explained my interest to the T-shirt owner and gave her a mini heat printing education.
I learned this shirt has been worn and loved by two teenage sisters (also known as a hand-me-down) for the past five years. On the front is a screen-printed image of a volleyball with a heat transfer vinyl number on the front and a number on the back. If you look closely at the image, you can see how the screen printing has cracked throughout the design but the heat printed number looks as fresh as it did the day it was heat applied.
I love representing a universal, durable garment decorating method that can withstand all the elements of life and teens.