Are you in the market for a new heat press? Have you been thinking it's time to upgrade your equipment? Now is the time to spring into action with this FREE CADDIE™ promotion, just in time to heat up your production this season!
While supplies last, all Hotronix® Auto Clam 16"x 20" orders will include a FREE Heat Press Caddie™ Stand ($550 value). Use this special offer to boost your decorating potential and say YES! to more orders apparel orders. Keep reading to learn more about this helpful accessory and how to order!
The Heat Press Caddie™ is a powerful tool for apparel decorators – it's like having another employee. Heat printers can finish jobs in half the time without any added stress. The Caddie™ stand features adjustable height and industry-exclusive threadability™, making it easy to quickly load and unload garments, all while reducing operator fatigue!
And don't forget the added mobility! Decorators can use a Caddie™ stand to make their heat press portable and offer on-site printing, on-demand at events. This feature allows decorators to easily take their heat press on-the-go and expand their business into new markets.
You can easily increase your fulfilment opportunities with this limited time deal! Provide a $550 savings value and increase your heat printing production time by up to 40%! Become a faster, more efficient heat printer. Order a brand new Auto Clam 16" x 20" and receive a FREE Caddie™ stand this spring.
Promo code: CADDIE must be applied to shopping cart.
MUST have a 16 x 20 Auto Clam in the SAME order/cart as the Caddie™ stand in order for the order to meet promo requirement and eligibility.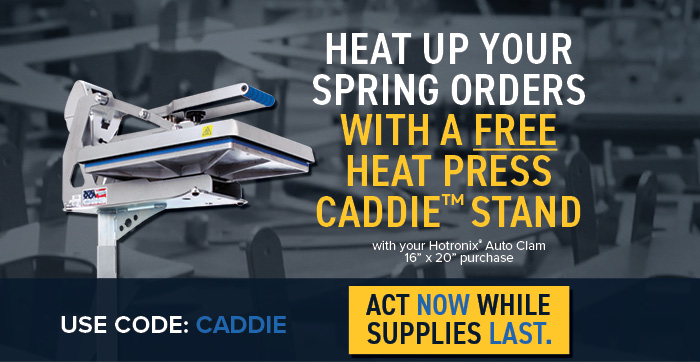 Stay tuned for more FREE Hotronix® promotions coming in the summer and winter months!