by Matt DeLaere, Marketing
The Detroit Tigers have had a Prince all season (Fielder, that is), but a new king has been crowned – three times, actually. Miguel Cabrera led the American League in batting average, home runs, and runs batted in, making him the first Triple Crown winner since 1967. At Stahls' the youngsters celebrated in style.
Little Grace, the latest addition to the web marketing team, and a real up-and-comer (she's obviously vying for my job), showed her pride in the Tigers' third baseman with a customized Tigers onesie. The awesome crowns at the top are cut out of blue CAD-CUT® Hologram heat transfer material and accented with crystal HotFix Rhinestones while Miggy is honored with his name and number in orange Fashion-FILM™.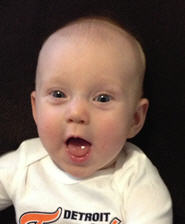 Asked for comment on the onesie, Grace responded with only a gurgle and a giggle, each showing her delight in owning such awesome clothing.