*Excerpts from this blog were originally published on TedStahl.com
Learn More About STAHLS' Heat Press Scholarship
The goal of the The Stahl Family Small Business Fund Heat Press Scholarship program is to help decorators reach their goal of starting a heat press business. This year we were so excited to be able to give away 21 heat presses to qualified winners. So, without further ado, we'd like to introduce you to the newest STAHLS' heat press scholarship winners!
---
Jessica Pretty of Daring's Deserved in Cedartown, GA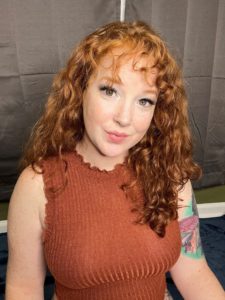 ---
Ciara Smack of CUTE CREATIONS BY CIARA in Frederica, DE
In 2018, Ciara started her business by creating custom security curtains for school classrooms. The curtains provide safety for students during intruder drills. Then she created a successful Kindness Matters T-shirt. She has a great niche market that serves educators and school staff members, school districts, parents, and students. The ability to add customization to her unique items has been a great business builder. Ciara is excited about the six coaching sessions from STAHLS' and has a goal of being a one-stop shop for her customers.
---
Shane Hickey of SH CREATIVE in Churchville, PA
Shane is a Graphic Designer by day, working outside of Philadelphia for a large company. But he always had a side hustle, helping out the local sports teams his kids played for. He would also create custom T-shirts and logos for friends and family. When his "Bad Things Happen in Philadelphia" T-shirt blew up, he understood the opportunities in the custom apparel world. He realized he wanted to print more on his own. Shane already knew about STAHLS' from his previous experience printing uniforms, so he entered the contest and the rest is history. Shane is excited to take his business to the next level.
---
Traci Williams of StellHER Curves in Lathrup Village, MI
---
Brandon Blackmon of Ballers World Order in Birmingham, AL
Finally, meet Brandon Blackmon from BALLERS WORLD ORDER. Brandon is excited to be backed by a top-notch supplier like STAHLS and is ready to build his business. The tagline for his company is "The Baller Makes the Brand." B.W.O is a youth sports/social organization and custom T-shirt apparel company that offers text/graphic motivational, inspirational, and funny basketball slang quotes. In addition, their primary design style is a combination of urban, cartoonish, graffiti tag-like style and flair. Anything goes, the more creative the better!
---
Apply to Win a Heat Press Scholarship
In conclusion, we hope you enjoyed learning about our most recent heat press scholarship winners. We hope to give away six more presses by the end of 2021. Do you dream of being your own boss? Want to work from anywhere? We encourage creative entrepreneurs like you to apply!
---
Watch this video below as Dan Stahl, President, walks you through the program and proudly announces the winners.