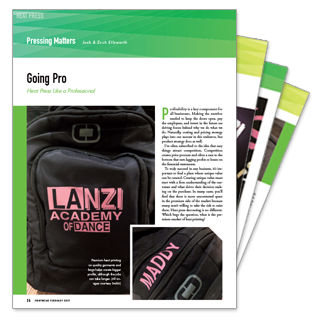 The goal of every business, regardless of the industry, is to turn a profit. In the February 2019 edition of Printwear Magazine, Josh and Zach Ellsworth give some insight as to how you can set your business apart in the premium market of heat printing.
The article explains how "elevating the finished product," whether by using a higher-end blank garment and/or using a higher-priced material or finish, is essential to capturing customers in the premium market.
The article also includes a practical example of how to heat press for those customers wanting a premium option. Heat pressing like a pro means standing out from the crowd. Tapping into the premium heat printing market is the perfect way to do just that.