Independence Day is right around the corner! Celebrate in style and create custom patriotic T-shirts, tumblers, hats and more. Try some of our specialty HTV and create unique, retail-inspired looks before July 4th gets here! To get ready for the holiday, here is what we recommend.
Patterned Heat Transfer Vinyl
CAD-CUT® Pattern Heat Transfer Vinyl is one of our top choices for holiday decoration! STAHLS' offers so many pattern options that are all customizable! The nice thing about patterns is — options! Did you know that we offer 5 different material options in patterns? That's right! Choose from:
CAD-CUT® Patterns Express Print
Glitter
ORAJET® 3164 Sign Vinyl
CAD-CUT® Patterns Soft Foam
Patterned Sublimation Transfers
Having these options makes it possible to decorate beyond apparel! With our Sign Vinyl, grab your favorite tumbler and customize it for the 4th!
Metallic & Foiled HTV
If you're not looking for a full color option, CAD-CUT® Metallic and Adhesive & Foil are great alternatives! Create shiny and bold looks using a vinyl or craft cutter. These two materials look very similar when you see them side by side, however, the main difference is the application process and color selections. Metallic is a one-step heat application process, whereas Adhesive & Foil is a two-step process. Metallic comes in 10 striking colors that heat applies at only 285 degrees. This lower temperature is a benefit when working with synthetic fabrics.
Unlike Metallic, Adhesive & Foil comes in 26 colors and requires a two-step application process. What that means is, there are two separate materials that create the overall look. CAD-CUT® Adhesive is a clear material that is cut with a vinyl cutter. This acts as the base and gives the foil something to adhere to. Foils come on a roll that you cut with scissors! Make sure to cut a piece of foil that is long or wide enough to fully cover the adhesive. To kick it up a notch, add different color pieces of cut foil to add a multi-color look! Once all of your foil pieces are placed on the adhesive (color side facing up), you're ready to heat apply part two of the two-step process.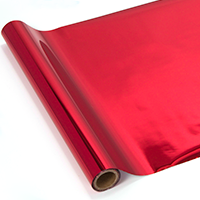 Add Sparkle with Glitter HTV
Lastly, you can never go wrong with a sparkle look — especially on the 4th of July! Our CAD-CUT® Glitter Flake™ has been a trusted favorite for years and years, and it's no surprise why! All of our colors are super durable and won't flake or wash off any sparkle. Glitter Flake is such a fun statement product and it looks great on anything from shirts to accessories, like can koozies! You can also mix and match Glitter Flake with some of our other HTV products for a fun, mixed media look.
We recently did a video showcasing a technique you can master with our Glitter Flake material, called the "trapping method". In this video, we used a red, white, and blue theme which is perfect for patriotic looks. Be sure to watch the video and see if you can recreate this look at home!