by Matt DeLaere, Marketing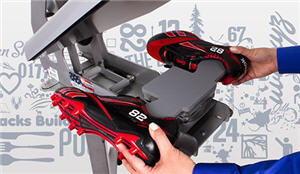 Soccer is one of the most-played sports in the United States, with over 12 million playing the outdoor game and almost 5 million playing the indoor version. Soccer fever is sure to intensify this June, when the U.S. hosts the Copa América Centenario, a tournament of 16 national teams from North, South, and Central America and the Caribbean. Make sure you're ready for the flood of uniform decoration orders that will be coming.
If you've seen our How to Decorate Soccer Uniforms page, you're already familiar with the most popular materials and letter and number sizes to use on uniforms, warm-ups, and spirit and fan wear. But what about the shoes? Logically enough, shoes are a pretty important part of a game called "football" by most of the world, and Stahls' has solutions for decorating shoes, boots, cleats, kicks, or whatever else you might call them.
The first thing you might be asking is, "How in the world can I decorate a shoe with my heat press?" Well, the good news is that you don't need to find a shoe that fits on a 16″ x 16″ platen – we have a platen that fits the shoe!
The Hotronix® Shoe Platen is interchangeable on any Hotronix or MAXX® shirt press, including the FUSION®, Air FUSION®, Auto Clam, and MAXX Clam. You can print designs up to 2″ x 4″ on shoes, and the platen accommodates one pair of shoes at a time.
When printing on shoes, we highly recommend using a Flexible Application Pad to ensure that the shoe itself is not damaged.
Now that you know how  to do it, what can you use to print on shoes? In the video, "Shoe Customization with Heat Press Transfer Vinyl" (embedded below), Josh Ellsworth shows how to decorate a variety of shoes with different CAD-CUT® heat transfer materials. As Josh points out, neon and other bright colors are popular on sports shoes these days, so materials like Fashion-FILM® (in Canada, try CAD-CUT Fashion-LITE™), and Fashion-FILM® Electric, are great choices.
Another important tip which Josh points out in the video: because footwear designs, such as player numbers, are naturally small, they're a perfect way to utilize scrap pieces of heat transfer material. Simply cut the design with your vinyl cutter for a highly-profitable way to use leftover material.
So there you have it – helping your customers get their kicks with decorated shoes is easy and profitable with the Hotronix Shoe Platen and CAD-CUT heat transfer materials.